As one of the most intriguing mega-trends in the world today, the story of India's flourishing economy regularly grabs headlines. Broadly speaking, this story is relayed in national terms—for example, a surging GDP growth rate, a set of new central government policies, or global consumer brands vying for their share of the Indian wallet. The development of the overall property market is often part of this story.
But for aspiring real estate investors who wish to participate in India's growth, choosing which part of the country to buy in can be a challenge. After all, the economy may be making great strides at the national level, but what dynamics are in play at the local level? Put another way, which city or cities can promise the greatest returns?
In some contexts, it may be true that a rising tide lifts all boats, but the same cannot be said for the rise in the Indian economy and its effect on property investments nationwide. Progress has been unevenly distributed. Under examination, the real estate market has clear hotspots as well as areas that lag behind. Among the hotspots, one city towers above the rest: Bangalore.
Just as a stock market investor would look for a fast-growing company whose shares are inexpensive, an astute real estate investor would look for property in a location that has rapid growth but low prices. Cities with the greatest potential for lucrative property investment share these characteristics—rapid population growth and low current prices—as well as another important feature: high paying jobs. Bangalore (or Bengaluru, as it is also called) scores big on all three fronts. The southern Indian city has undergone a dramatic transformation in recent years and now stands as the preferred destination for property investment.
In terms of population growth, Bangalore's upsurge is hard to overstate. In 2001, the census recorded an urban population of 4 million. Within a mere ten years, that number had mushroomed to 8.5 million. And the swell continues unabated, with 2014 estimates pegging the number of residents at 10 million.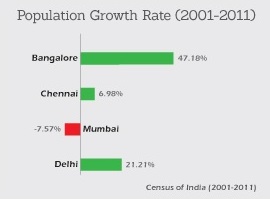 The influx has catapulted Bangalore, once a sleepy town known as a quiet haven for retirees, into third place among India's most populous cities. It is also the single fastest growing metropolis in India.
The proliferation of high-paying jobs is closely intertwined with Bangalore's population surge. While the city's pleasant climate and leafy avenues earned it the nickname "Garden City" years ago, today it is better known as the "Silicon Valley of India". This name refers both to the huge number of IT companies and to the entrepreneurial spirit of the city. Large domestic corporations including Infosys, Wipro, and Biocon are headquartered in Bangalore, as are a substantial number of well-funded startups such as Zipdial and Flipkart. Furthermore, multinational corporations such as GE, Intel, Amazon, and Cisco have established major research and development centers, and big-name players in the financial industry such as Goldman Sachs have begun building campuses. With a yearly output of $83 billion, Bangalore is the fourth largest contributor to India's GDP. Companies choose to set up and expand in Bangalore because of the highly qualified workforce, and in turn, skilled professionals move to Bangalore for the opportunities. It's an upward spiral. In terms of the average white-collar salary, Bangalore leads the rest of the country, followed by Pune, Mumbai, Hyderabad, Delhi, and Chennai.
In spite of the high growth in population and well-paying jobs, Bangalore nonetheless has low current property prices. The highest mean apartment prices in the country are in Mumbai and Delhi.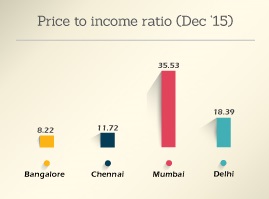 (This fact, coupled with slower population growth in those two cities, contributes to the sluggish state of those real estate markets.) An average home in Mumbai costs more than 20 times the homeowner's yearly income, and in Delhi the cost is nearly as unreasonable. In striking contrast, a similar home in Bangalore costs five to seven times the homeowner's annual income. Clearly, in Bangalore the market has more room to grow.
Thanks to its combination of rapidly growing population, well-paying jobs, and low real estate prices, the hub of India's IT industry has become the hub of its property investment as well. To purchase property is to tether one's investment to the fortunes of that particular place. And in no other city in India do the fortunes look quite as promising as in Bangalore.