In conversations about economic growth and future potential, India and China are the two large economies that are most talked about as these two are the only ones with the scale to impact global growth. Despite the two countries being regularly grouped together, they are fundamentally quite different. Most of us are aware of the difference in the political structure of the two countries, but an equally relevant aspect to consider is the difference in their economic structure and growth opportunities.
China has grown phenomenally in the last few decades largely due to its strong emphasis on manufacturing, but this single-minded focus on manufacturing has led China to a standstill. The country has reached the limit on the number of people who can move from rural areas to work in factories at low wages, and its growth rate has come down sharply as the country tries to change its economic structure and growth model.
China's slowdown has worked to India's advantage. As the only other emerging economy of similar scale, investors have started pouring money into India to take advantage of India's more balanced and sustainable growth. While China's economy has been dominated by low-wage manufacturing, which comprises 59% of its GDP, India's economy has a more diversified base, with manufacturing taking up only 17% of its GDP while services account for 52%. India's numbers are, in fact, somewhat unusual for an emerging economy and similar to that of a mature and stable economy. This sustainable growth model, accompanied by India's rapid economic growth, has resulted in a jump in foreign funds flowing into many sectors of the Indian economy.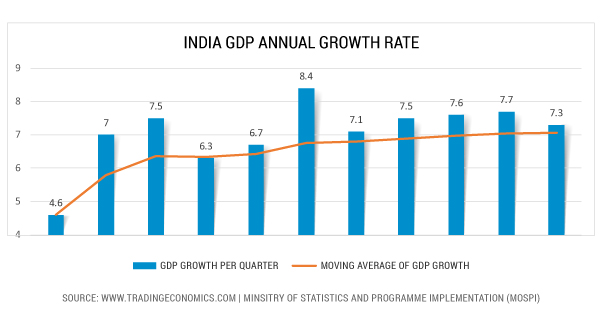 One of the key beneficiaries of the money pouring into India has been the real estate sector. FDI in real estate has grown from 171 crore in the entire year of 2005 to over 2357 crores in just the first quarter of 2015. Global real estate giants, such as the Blackstone Group, have poured billions of dollars into real estate assets in India. These sophisticated investors like what they see in India – a diversified economic base, a mature and stable political system, a legal system similar to that of the West, and rapid growth in educated, white-collar jobs such as in the information technology and online industries. India also has a thriving startup ecosystem and has become the favorite hunting ground for venture capitalists from Silicon Valley, who see in India economic opportunities similar to what they have experienced in the U.S. in the past two decades.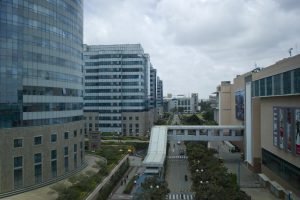 All of this is resulting in an explosion in the number of Indians who are moving from poverty into the middle class and the wealth owned by them. A study by McKinsey Global Institute forecasts the size of India's middle class to swell 10-fold to 500 million by 2025. For many of these newly affluent consumers, one of the first purchases is a home to live in.
The growth in white collar jobs and the middle class population, in-turn, have led to a pronounced requirement for workspaces and residences in the country, making its real estate market one of the best investments in the world at this time. Corroborating this is a recent report issued by JLL and the Royal Institute of Chartered Surveyors that states that the demand for corporate real estate space in the top seven cities of the country had witnessed a record-breaking annual rise of 18% in 2015. All the new workers in these offices will need homes, resulting in a corresponding increase in demand for housing.
This growth has enabled some cities in India to jump several places ahead in global league tables when it comes to real estate. For example, Bangalore has jumped past larger Indian cities such as Bombay, Delhi and Calcutta, to become the biggest office space market in India. In fact, according to a recent report by Cushman and Wakefield, Bangalore is expected to see the second highest office space absorption in the entire Asia-Pacific region, after Tokyo. The city today dominates India's commercial space market with one out of every three square feet of new office space in the country coming up in the city.
All this growth presents an outstanding opportunity for real estate investors, especially those who choose to invest in the faster-growing parts of India. The market looks excellent for commercial property with vacancy rates close to a historical low while prices remain reasonable. And since the commercial property market is a leading indicator for residential properties, the housing market also looks set for rapid growth in the years to come. For global investors who are concerned about where to park their funds, this is an excellent time to increase the share of one's portfolio that is occupied by Indian real estate.